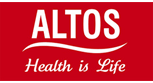 Altos started in the year 2000 with only 7 products, has now become one of the top leading direct selling companies which sell products for the betterment of health of people.
Altos combines its rich legacy with a passion for manufacturing premier and prestigious fine Healthcare, and exquisite skincare solutions, through its time-tested traditional processes. The company chose to enter the direct sales channel to provide personalized service on the art of niche nutraceuticals and naturally based products directly to consumers, delivering their two-decade-old expertise and advice directly at home. To succeed in India, Altos crafted a new product line designed exclusively to resonate with the cultural preferences of the Indian consumer.
"The ROOTS system is very robust and simple to use even non-IT kind of people had no problems learning and using ROOTS Solutions."
THE CHALLENGE
Altos was looking for a technology provider to support the company's expansion into India. Although this iconic brand's high-end products are world-renowned, it entered India's direct selling market as a start-up. Their company needed to leverage technology to create the Altos brand experience for Advisors and customers. Achieving this goal would require an exceptional technology partner that would guide them on the best practices for their total solution: including the back-office software, e-commerce, server locations, compliance with India direct selling guidelines,

"India is a large complex market, with one of the fastest-growing economies in the world. The right technology partner was imperative to ensure our success in direct sales. We wanted to work with a very experienced company, highly regarded by industry experts, and someone we could work with and grow with for quite a long time. Most importantly, we needed a company and a team that we could trust completely."

"The ROOTS is the most advanced and comprehensive technology provider in the industry with such Direct Selling Domain Expertise."
THE SOLUTION
"Altos has been in business for nearly 20 years, ROOTS provided a very cost-effective solution. The speed by which we established a presence in India was game-changing for our overall success. ROOTS applications provides accuracy, reliability, compliance, and the flexibility to expand. Altos chose the ROOTS Enterprise solution with e-Commerce, CRM Tools, Corporate Back Office, Supply Chain Management, Direct Seller Management; as well as the direct seller-configurable key performance reports.

ROOTS truly cares about helping clients succeed at every stage of their business. In every area, they gave us much more than they had promised. ROOTS is by far the fairest company in the industry."

"There are many direct selling software companies in India, but only ROOTS provided the advanced technology level that we desired. We know ROOTS can take us forward into the future. They are very receptive and ready to accept all the changes we want to make. The team's openness and the platform's flexibility make it very easy to work with them."

"We continue to be very impressed with the simplicity of using ROOTS platforms to set-up, manage, and host live selling events, incentivize direct sellers and sell products — both from personal inventory and online. Out of the 20 software companies we evaluated, only ROOTS aligned with the innovation and high quality of the Altos brand and could deliver the exceptional experience that we required, and our customers' expectations"
THE RESULTS
"The ROOTS solution has made it simple for new direct sellers to join, place orders, and receive inventory. The compensation plan, which includes nine ways for direct sellers to earn money, including a variety of bonus programs, commission plans, and rewards, is automatically calculated by the ROOTS DSM. The computation of commissions is fast and quite simple. Its high accuracy has developed the kind of trust we need in our Leaders and Direct Sellers. They know that their compensation is being calculated in the right manner and trust the system's accuracy and reliability.